Somewhat recently, perhaps in the last couple of years, I began embracing my body for what it is, as opposed to what I wish it was it isn't. I've already shared my REAL thoughts about womanhood, but this post is dedicated to some of the ways in which we accentuate our bodies.
As a lover of cultures the world over, I find it interesting to observe expressions of 'beauty' by women in different places. I am particularly enamored with "traditional" [i.e. old world] body treatments and accessories that render a woman alluring as opposed to just plain bawdy. To me, feeling feminine--sexy, even--is more about the confidence that comes with accentuating one's positive features than just putting all your goodies (and not-so-goodies) on display. In my humble opinion, there are two forms of adornment that do just that: mehndi/henna and waist beads.
Henna


designs from henna stains (the 'after')
photo credit: halaah-io.blogspot.com
As intricate as a tattoo but without the permanence, henna body art has been a mainstay for women over thousands of years. East Africa, the Middle East and South Asia are the areas where most adherents are found but it's become more popular in Western societies. Henna comes from the crushed leaves of the plant Lawsonia inermis. The resulting paste is applied to skin, nails and hair for several hours, and then removed to impart a reddish-brown color.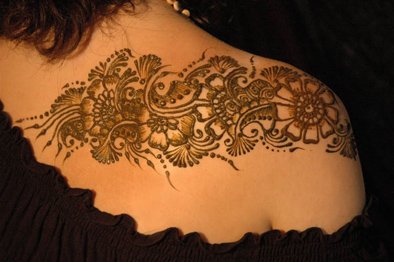 freshly applied henna paste (the 'before')
photo credit: alibaba.com
The most popularly known use of henna is probably in the form of mehndi, term of South Asian origin given to the process of applying it to the body. Indian weddings are quite epic and the bride/bridal party are normally lavished in mehndi before the main ceremony. However, designs are often differentiated between South Asian and Arabic origin.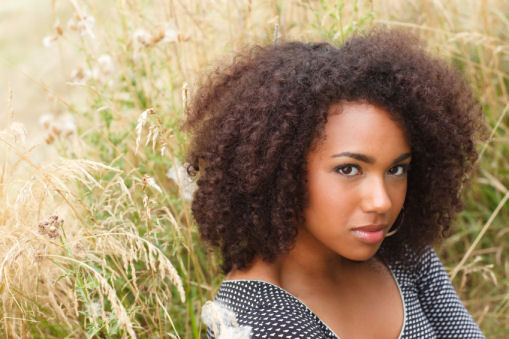 henna-treated hair
photo credit: hennablogspot.com
I love it because of the unlimited designs that can be made on the skin, sans the pain and staying power of a traditional tattoo. #winning It's all natural--not to be confused with the dangerous "black henna" on the market--and gives a gorgeous organic look. For those who want to go for a bolder vibe, henna artists are even adding colored glitter and rhinestones to the mix. For hair, it is reported to strengthen strands, loosen tight curl patterns and boost shine, along with an auburn tint; similar in intensity to a chemical rinse (disclaimer: I've never used it in my hair but I plan to in the near future).
Waist Beads
Waist beads, not to be confused with the recent "belly chain" craze, are almost completely attributed to the African continent. They have been traditionally worn by females to signify many things [depending on types and colors of the beads used]: age, maturity, chastity, marriage, and health. Supposedly, a small girl is given waist beads to shape her figure as she grows into a woman. In some cases, I've heard that the string must be cut when she loses her virginity; others times, it is said that a woman's beads must only be seen/touched by her husband. Different colors are also said to have varying properties and the string can be dipped in scented/medicinal oils for healing purposes.
I think waist beads are uber-feminine because they accentuate the region of the woman where life is perpetuated. Regardless of her figure, whether they run through her navel area or are hip-slung, or if single or multiple strands are worn, they enhance awareness of the blessing that has been bestowed on women as ushers of life. As if that weren't enough, word girl talk on the street is that waist beads also happen to arouse a man's visual nature--plus, he can tug on them gently to "communicate"...
#hinttofuturehubby
My genetics gypped me of the typical Black woman's bangin' booty and voluptuous hips, but I'm thinking that somehow, waist beads still create the illusion of curvature. Once I get some, I'll be sure to tell you all about it!